Our latest Testimonials.
Here's what our customers are saying about us: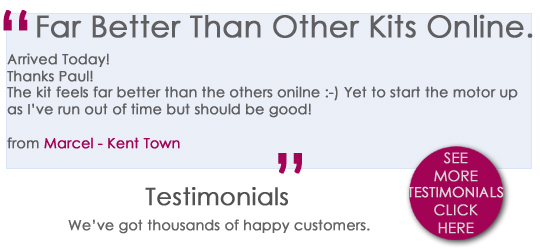 FAR BETTER THAN OTHER KITS ONLINE
Arrived Today!
Thanks Paul!
The kit feels far better than the others online

Yet to start the motor up as I've run out of time but should be good!
-Marcel Tugwell
Kent Town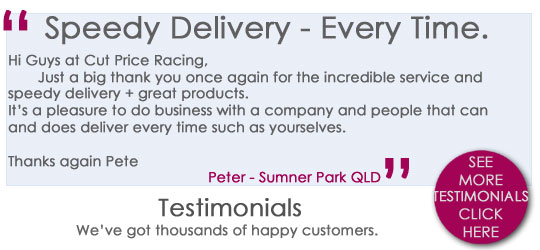 Hi Guys at Cut Price Racing

Just a big thank you once again for the incredible service and speedy delivery + great products.

It's a pleasure to do business with a company and people that can and does deliver every time such as yourselves

Thanks again Pete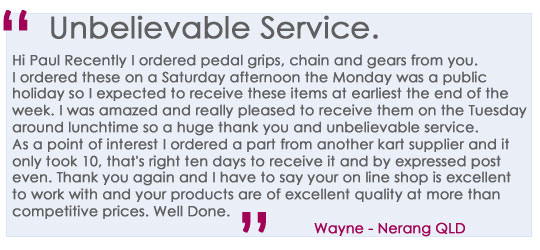 Hi Paul Recently I ordered pedal grips, chain and gears from you. I ordered these on a Saturday afternoon the Monday was a public holiday so I expected to receive these items at earliest the end of the week. I was amazed and really pleased to receive them on the Tuesday around lunchtime so a huge thank you and unbelievable service. As a point of interest I ordered a part from another kart supplier and it only took 10, that's right ten days to receive it and by expressed post even. Thank you again and I have to say your on line shop is excellent to work with and your products are of excellent quality at more than competitive prices. Well Done.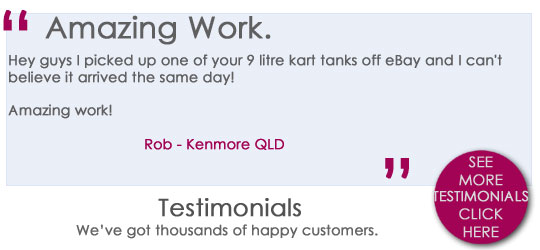 Hey guys I picked up one of your 9 litre kart tanks off eBay and I can't believe it arrived the same day! Amazing work!





Hi Paul

Just letting you know I have received my 2 red hubs and 6 wheel nuts, they look fantastic and arrived here very fast and packed very well. Thank you a lot for your awesome service and I can't wait to buy more things off you in the future. Have a great weekend!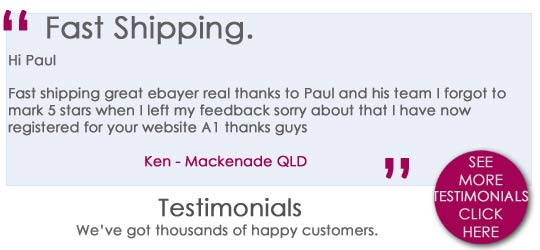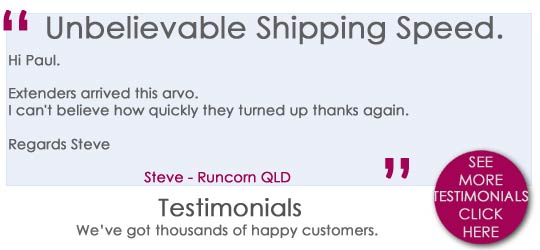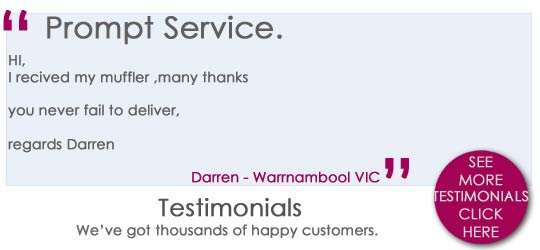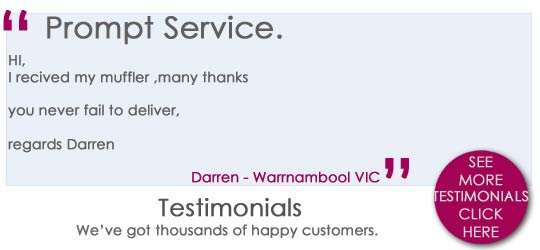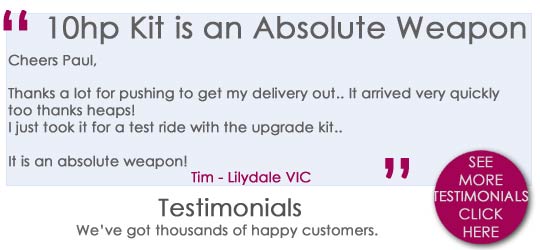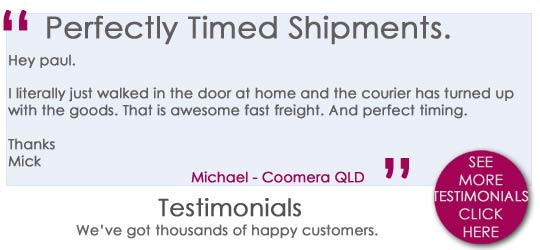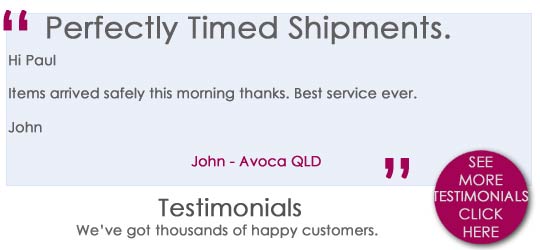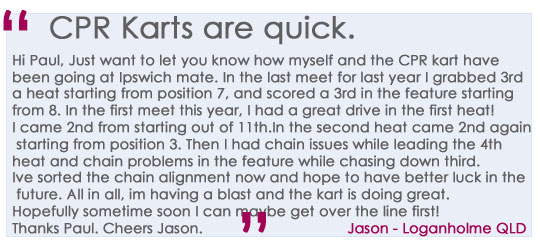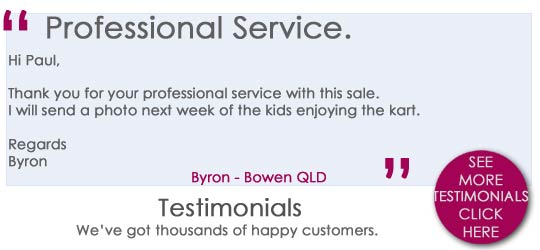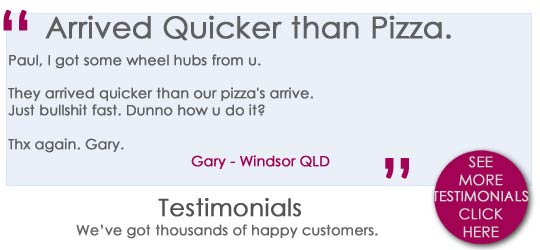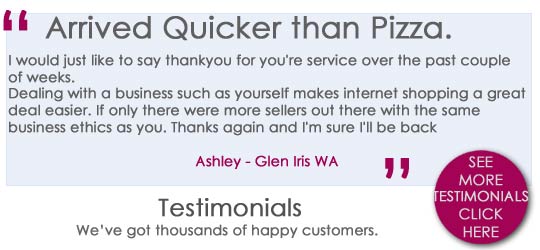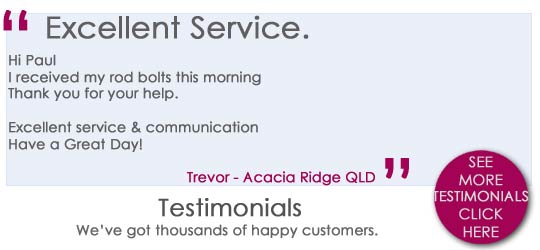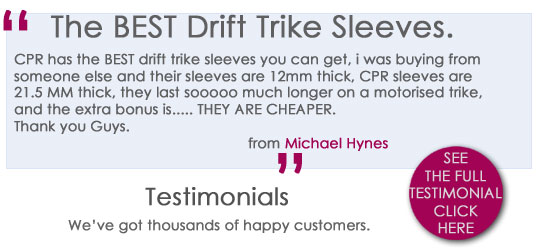 THE BEST DRIFT TRIKE SLEEVES!

CPR has the BEST drift trike sleeves you can get, I was buying from someone else and their sleeves are 12mm thick. CPR Sleeves are 21.5mm thick. They las soooooo much longer on a motorised trike and the extra bonus is.... THEY ARE CHEAPER.
Thank you guys.

-Michael Hynes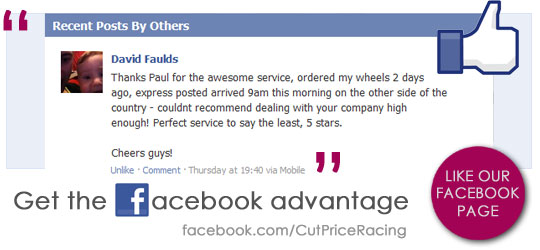 "WOW !!!

Thank you for your help & amazing fast service. We ordered our parts yesterday afternoon & they were on my doorstep at 8.30am this morning.

We are VERY impressed & would not hesitate to reccomend you to our friends or anyone else. We will certainly be back when we need other items. Excellent to deal with
"

Wendy - Caboolture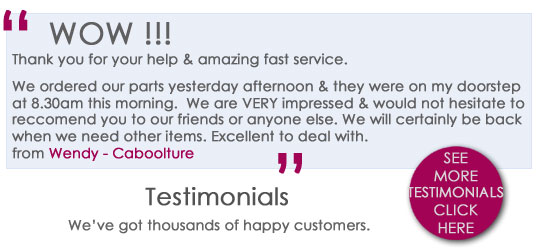 "We've won two championships on your chains, they are excellent!"
Nigel - Adelaide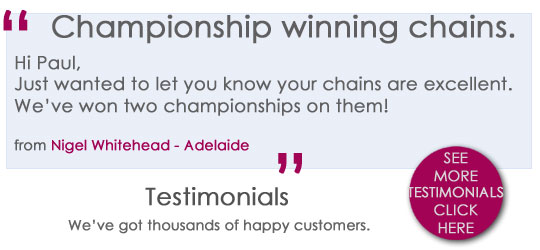 "Thanks Paul,
I think I have enough for the moment, but I'll be back.
Your service is the best I've experienced for many years.
Keep up the great work."

Allan - Burpengary QLD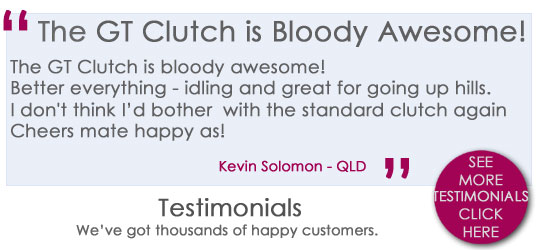 "Paul, your engines are great - I can't believe how simple these things are to start. Even my young boy can start it. I just filled it with oil and fuel and it started first time!"

Mick - Warialda NSW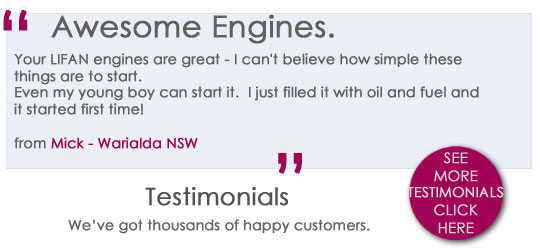 "Hi Paul, first opportunity to email you.
The bearing package arrived at 9:30am, absolutely brilliant service, thank you so much.
Please feel free to use this email as a testimonial on the site, or I will write a better testimonial for you.
Thank you again, Cheers."
Andrew - Wurtulla QLD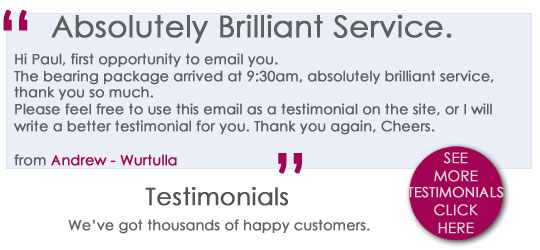 "Hi mate, just want to let you know I got all the stuff yesterday. Thank you. All of it is spot on."
Jamie - Penrith NSW


"Thanks Paul, Doing business online is sometimes a very daunting task, however dealing with you has been a pleasure as contact has been kept the whole time.. Great servicea nd I'll definitely be dealing with you again."
David - Adelaide SA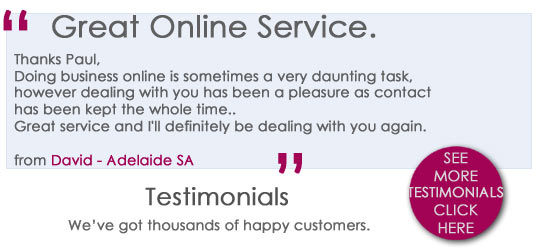 "Thank you very much for the axle and parts as they arrived today, only 2 days after ordering them. I have installed them this afternoon and i am wrapped with how it looks. I also wanted to say thank you for the professional customer service you have provided with all my orders. The quality of the parts you have provided has resulted in an old kart now looking awesome and brand new again. Keep up the good work!"

Travis - Shortland NSW


"G'day I have just received my first order and am very happy with the quality and value.. And quick delivery! Cheers, Mick"

Michael - Gosford NSW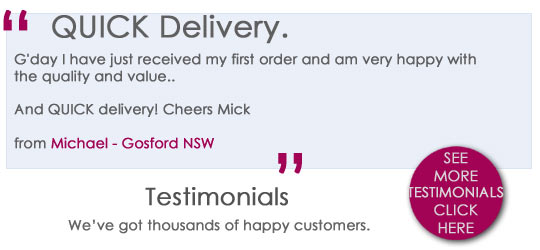 "Absolutly Awesome quality, was amazed on how quick my parts arrived, will definatly deal with again and spread the word to the boyz."

Bradley - Hobart TAS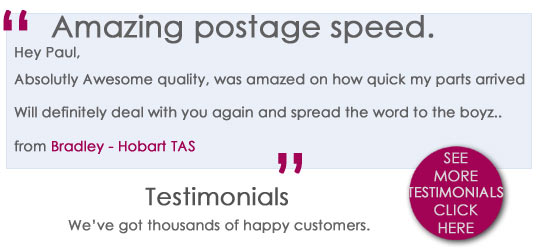 "Once again thankyou Paul for your fantastic speed of service !!! Cheers"
Dave - Woombye QLD

"Hi Paul, just wanted to thank you for all your assistance, much appreciated and as we have 3 karts at the moment i would envisage we will be doing more business with you in the near future."

Doug - Beaudesert QLD


"Hi Paul, Let me say how much I appreciate this full and complete response! I will get on to the website and order the chain and sprocket (hopefully at lunch time). Thank you again for all your advice. I am definitely in your debt...

Darryl - Camberwell VIC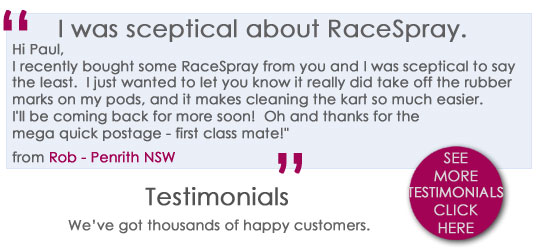 "Hi Paul, I recently bought some RaceSpray from you and I was sceptical to say the least. I just wanted to let you know it really did take off the rubber marks on my pods, and it makes cleaning the kart so much easier. I'll be coming back for more soon! Oh and thanks for the mega quick postage - first class mate!"

Rob - Penrith NSW

"Hi Paul, Just a quick email to say thanks, everything arrived on time and I managed to get everything done over the long weekend. Thanks. Rgds Ben"

Ben - Ballina NSW



"Hi Paul,
Item arrived today, Thanks for your prompt and friendly service. Cheers, Dallas "

Joel - Woodberry NSW


"Hi Paul,
I received the replacement bearings all in good condition thank you for the gesture it's easy to see why you have 100% positive feedback I left feed back and gave you a good wrap look forward to doing business in the future, Joel "

Dallas - Leopold VIC

"Hi Paul, Just wanted to say thanks. All my stuff arrived overnight, I couldn't believe it. It's all exactly what I was after, I am very impressed by the quality of it all but especially with the steering wheel. I Look forward to dealing with you again soon."
Norm - Thornlands Queensland

"I initially found your ebay items & they were just the parts I need. I'm rebuilding a road gokart into an offroad/grass kart for my daughter. It's the first kart project I've done. My mission is to build a durable kart @ a reasonable price. I'll definitely be back to purchase more stuff as my project evolves. Cheers Terry."
Terry - Marian Queensland

"Hi Paul, I have recently bought an item from your store and the service was incredable, the item was delivered very quickly it is very good quality and best of all, all of this for a great price you guys are excellent to deal with hope to buy from you again soon. Thanks very much. Mike."
Mike - Lynbrook Victoria

"Hey Paul, I buy most of my karting stuff through you i think the prices are fantastic and very good quality items for the money. Thanks once again for helping the go karting world! Cheers Tim."

Tim - Adelaide SA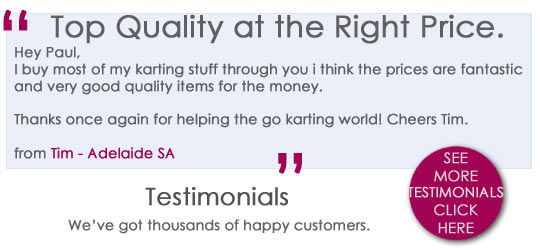 "Product Purchased: front wheel spacers and nose cone clamps. Product thoughts: Really happy with the quality and postage especially at such a great price, helps make karting that little bit more affordable to the average joe."
Ben - Smithton, Tasmania

"Hi Paul. I am buying the black 40mm axle assembly tonight. (I would like the black one please) I would also like to tell you I am purchasing the brake next week. For the help your have given me I would like to let you know that I am going to tell everyone know a school about you so they can get go kart parts at your store. Cheers Sam"
Sam - Perth, Western Australia

"Product Purchased: Kart complete front end setup. Product thoughts: Great product. Quick delivery."
Paul - Roleystone, Western Australia



"Once again
thankyou Paul for your fantastic speed of service !!!
Cheers dave."
Dave - Woombye QLD

"Product Purchased: steering assy Product thoughts: Looks good, well finished Postage & service thoughts: Very quick delivery, great service"
Kym - STRATHALBYN, South Australia

"Thanks Paul Items arrived quickly and at a good price with the items exactly as described. Will definately be dealing with you in the future. Thanks Peter"
Peter - Gladstone, Queensland

"Hi Paul, Just letting you know we received the steering wheels today, in great condition. They were exactly what I was looking for. Thanks very much for your prompt service its great!!! PS...... shit hot

Regards Ken"
Ken - Redbank Plains Queensland


"Hi Paul,
Yes you are right about my kids kart being a four stroke.
I really appreciate the extra items you have thrown in and will be buying all the parts that I need; and that you stock, from you in the future.
Thank you.
Regards,
Dave. "
David - Townsville Queensland

"Hi. Just to let you know that the fuel hose is standing up to unleaded 98 very well. Other hoses i have tried have failed, so far so good. Have left you positive feedback hope you will do the same for me. Keep Up the Good Products. Thanks Craig."
Craig - Upper Caboolture Queensland

"Product Purchased: rear axle. Product thoughts: Good product, Fast postage"
Sam - Coomandoook South Australia

"Hi Paul, The service I have received from Cut Price Racing is excellent. Delivery was super quick to Melbourne. Unfortunately, the product was manufactured incorrectly. On the positive side of this, refund was offered with no hesitation. I am more than happy with the service and outcome and will 100% check this site before purchasing elsewhere. Excellent customer service and product support."
Ernie - Epping Victoria

"I recently brought a steering assembly from cut price racing and found the company to be excellent extremely fast shipping, extremely good service and the price was second to none. I have no reservations in recommending this company and its products to anyone. the product I received fitted my arrowax5 without any modifications as I am new into karting I found all aspects of cut price racing most helpful and of excellent quality"
Luke - Devonport Tasmania

"i thought the service was actually very good and professional , i received my steering in 2-3 days after buying it on ebay which is very good , the product itself is ok but i actually found the wheel to be quite heavy as to my current wheel but in saying that it feels very strong and since im using my kart for hill climb purposes only it should be ok , so thanks again i do appreciate your product regards Andrew ps gold always looks good"
Andrew - Grafton New South Wales

"Product Purchased: Go Kart Tie Rod Rods Complete 4 Steering New STRPC1B. Product thoughts: Great - received the item very fast and item was of good
quality."
James - Orchard Hills New South Wales

"Product Purchased: Steering wheel. Product thoughts: Good value - quick delivery (I was surprised how soon that I received it) "
Greg - Jamisontown New South Wales

"Product Purchased: Steering column and tie rods. Product thoughts: Not a bad piece of kit. Postage was very fast."
Micah - Evatt Australian Capital Territory

"Product Purchased: Aluminium front wheels. Product thoughts: Wheels look low quality chinese made, speed of shipping and service awesome great job guys. "
Darrel - Woongarrah New South Wales

"Product Purchased: Steering Wheel. Product thoughts: Product looks great and postage speed was outstanding, one of the quickest ive experienced."
Brendan - Morphett Vale South Australia

"Product Purchased: steering kit. Product thoughts: Good value product. Happy with postage time during christmas rush."
Chris - North Sydney New South Wales

"Product Purchased: 40mm axle kit. Product thoughts: excellent. "
Lindsay - Tamborine Queensland

"Hi I've bought few things off cut price never have I been disapointed a very good seller"
Alfonso - Darra Queensland

"Love your site - you are highly recommended from a mate."
Peter - Toowoomba Queensland

"hi, ive brought lots of parts from all different ebay stores, but never once have i recieved an item one day after payment. the product was great, i will sertantly be buying from you guys again.. if you ever have a set of rear rims plzz email me. thanks very much jayden..

"
Jayden - Pacific Paradise Queensland